Symposium on "construction of innovative cluster of northwestern region" was held in Urumqi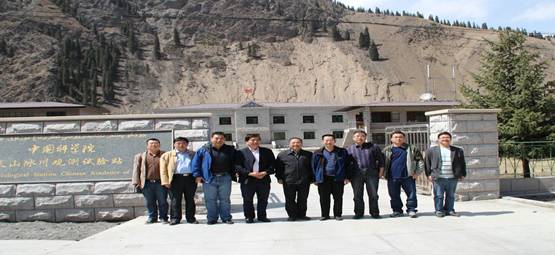 Participants investigate the observation and experiment station of Tianshan Mountain glacier, CAS
"Construction of innovative clusters of northwestern ecological environmental protection and energy resource exploitation" is one of the contents of CAS 3+5 regional innovative clusters and carried out by Lanzhou branch, Xian branch and Xinjiang branch jointly.
April 27th, a symposium on "construction of northwestern innovative clusters" was held in Xinjiang branch, which focused on two main topics of ecological environmental construction and sustainable exploitation of energy resource. With the principle of making full use of existing advantages, integrated advantages and regional advantages, Mr. Zhang Xinchang, the vice-president of institute of water and soil conservation, CAS introduced the project program on cluster construction, meanwhile, put forwards ideas on CAS-local cooperation and platform building in the cluster construction. Mr. Guan Kaiyun, the vice-president of Xinjiang technical institute of physics& chemistry made a speech on the main research contents of innovative cluster construction on Xinjiang strategic living resource and the important achievement through branch-local cooperation. Mr. Zhang Jian, assistant president and chief of technological department further expounded that the integrally planning should be carried out step by step in the order of importance.
After full discussion, the participants reached an agreement of making northwestern ecological environmental construction as main subject and concentrating on "northwestern ecological protection and environmental restoration" and "protection and sustainable exploitation of northwestern strategic living resource".
Mr. Fu Chunli, the secretary of Xinjiang branch and Mr. Dong Yunshe, the vice-president of Xinjiang branch attended the symposium and made speeches. The symposium hosted by Mr. Wang Wei, chief of scientific and technological cooperation department of Xinjiang branch. Mr. Ren Yue chief of branch-local cooperation department of Xian branch, Mr. Liu Wenjiang, chief of scientific research department of Xinjiang institute of ecology and geography, Mr. Wang Guoping, deputy chief of scientific and technological cooperation department of Xinjiang branch and other relative personnel attended the symposium.
During the period of meeting, Xinjiang branch organized the participants to visit the observation and experiment station of Tianshan Mountain glacier, CAS and make a spot exam for Chinese No.1 glacier in Tianshan mountain of Xinjiang.